Jeremy Kemp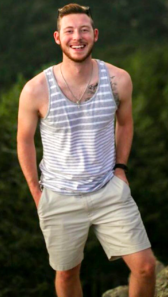 Jeremy was born and raised in Colorado and has always been active especially when it comes to the mountains. He loves skiing and snowshoeing in the winter, and hiking and biking during the summer. Basketball was a huge part of his life growing up and really is what got him into the whole idea of physical fitness.
Jeremy attended the University of Colorado (S'ko Buffs) and graduated with a degree in Integrative Physiology, the study of how the body functions and how all those functions interact. CU and the YoungLife ministry is also where Jeremy met his now wife, Allie. He later decided to pursue training because of the way exercise can change people's outlook on life and encourage people to live their best lives.
He is passionate about the way that physical health ties in with every aspect of our lives, including our mental health. Jeremy says "I have been able to work with multiple people struggling with anxiety and depression, and it is such a joy to see how their fitness can change the way they live their lives. I just want to see people live a life they are proud of, and excited about; and I believe fitness is a huge piece of that".
Certifications:
ACE Personal Trainer, ACE Functional Training Specialist, FMS Functional Movement System in 2019
Fun Fact:
He always eats his food in a circle, no matter what it is!