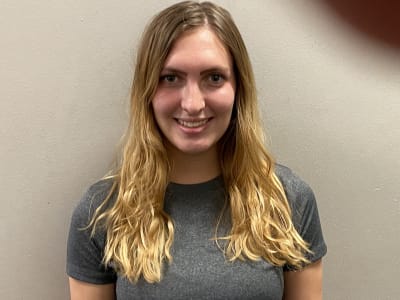 Sam Neuville
Sam has been passionate about fitness for her whole life. Since starting competitive soccer at age 3, she has always been an athlete. From her long athletic career, she has also become aware of the setbacks and challenges that go along with a super active life. Her biggest physical challenges to overcome have included 2 ACL tears, and a herniated disc (SI - L5). Playing around and recovering from these injuries has taught her a lot about rehab, conditioning and how the body works. The challenge to getting back to high level sports performance, only fueled her passion to learn more and excel in sports performance. Through hard work and determination, she was able to reach her goals and inspired her to want to help others to reach their goals as well.
Currently, she is in the process of completing her BS in Sports Medicine at Grand View University. Additionally, she is certified as a Muscle Activation Techniques specialist and I am continuing further education in MAT. She decided to get certified as a specialist to help me understand the body more and how it moves so that strength training, endurance, weight loss, increase muscle size and definition are more easily, effectively and safely accomplished.
Her clients typically are performance athletes who want to elevate their sport as well as people who want to look, feel and perform better in their everyday activities.
She is still playing as well as coaching soccer. Currently in the Colorado premier league and has played semi-professional as well. Her goal remains to get a full contract with a professional team.